Wall Covering
We offer a line of solid wood paneling that gives you some spectacular alternatives to drywall and paint. Complement your flat , monochromatic walls with one finished in the depth and character of one of these beautiful forest products.
Fieldstone:
A new look in wall covering made using material reclaimed from our flooring production. Stained and finished by hand, it produces a stunning impact in any room, rustic or modern. We think it looks best and creates the most dramatic impact covering small areas: Surrounding a fireplace or woodstove; for a bar or back bar; in a wine cellar - on one wall almost anywhere.
Every Fieldstone wall displays a range of texture and color. Each panel is made from a selection of domestic hardwoods and softwoods that are milled differently to create this variation. Thickness varies from 5/8" to 1-1/4" for a unique 3-dimensional look.
Installation is easy. Fieldstone can be ripped to any width and cut to any length and stacks on the wall either vertically or horizontally. Fasten with a 2-1/2" 16 gage nail through the face of the panel into your framing.

3D Side View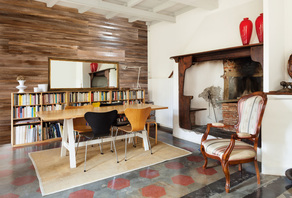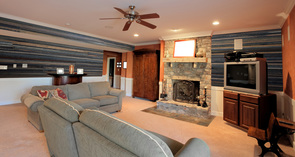 Bevel Edge:
Traditional Bevel Edge tongue and groove. Available in Red Oak, White Oak and Hickory 3/4 x 4", 5", and 6" widths random length end matched; Knotty Pine 11/16" x 6-7/8" and 5-1/2" 8' -12' long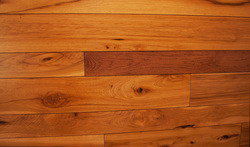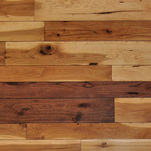 Block Paneling:
Each piece of wood is brought into relief by milling for a narrow gap on all sides. Impressively stylish look. Tongue and groove Red Oak, White Oak, Hickory and Clear Poplar. 3/4" x 4", 5", 6" random length end matched.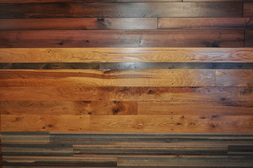 Butt Joint:
This tongue and groove paneling installs edge to edge, one board blending into the next. Red Oak, White Oak, Hickory: 3/4" x 4", 5", 6" random length end matched and Knotty pine 11/16 x 6-7/8" x 8' -12'.
Interior Lap Siding:
This siding installs horizontally, one piece slightly overhanging the next. Usually used on the outside, we reduce the overhang creating a new look for an interior space. Red Oak, White Oak, Hickory, Clear Poplar:3/4" x 4", 5", 6", random length end matched.